Join the Family
Everyone wants to make a difference. Come join us and not only help build roadways and houses, but build a career and a partnership. It takes more than one individual to fill our stockpiles – it takes a whole team. Together, our employees work hard, look out for each other and get their boots dirty.
At Jahna, we stand behind our reputation and offer a safe environment for you to learn and grow and have satisfaction in a job where you can be more than just a footprint in the sand.
"At E.R. Jahna, you're not just another number, you're part of the FAMILY."

Is your closet filled with steel toe boots instead of loafers?
At Jahna, we offer much more than just a paycheck. We offer you the chance to work for a company that you can take pride in. A company that is contributing to its community and local infrastructure. We value our People and that shows in the benefits we offer.
Competitive Pay
Advancement Opportunities
Life and Disability Insurance
Discretionary Profit Sharing
Health Fairs
Employee Referral Policy
Cancer and Accident Insurance
Paid Vacation
Worker's Comp Coverage
Safety Bonuses
Bi-Annual Employee Meetings
Personal Days
That is the Jahna Standard for Safety and what we hold our employees to each and every day. We look out for each other whether it's in the office or out in the field, safety is our top priority. Our Head of safety, Dwight Graves, has been with our company for almost forty years. That's forty years of experience that our employees have access to each and every day. However, safety isn't a one person job, it is everyone's responsibility. We encourage everyone to be a Safety Leader and that shows in our impeccable safety record.
"We want to send you home better than the way you came in." Allen Keesler, CEO

Do you prefer a safety vest over a suit?
ER Jahna reinforces our commitment to safety with weekly safety meetings at all of our locations and ongoing training. All new hires receive site specific training and all of our programs and policies meet those set as industry standards by MSHA.
Building Better Communities
At ER Jahna, we're proud to say that we've been contributing to our local communities for over half of a century. We strive to recruit locally and provide jobs to help support homegrown economies. Our HR and management team regularly attends local career fairs and community functions in order to find the best, local talent possible.
"Supporting our local communities is a family tradition." Jim Jahna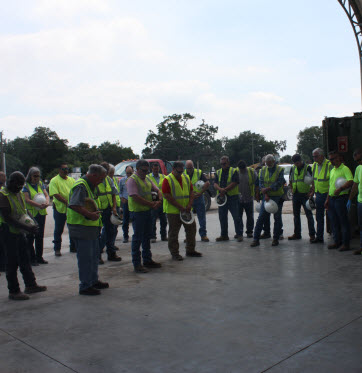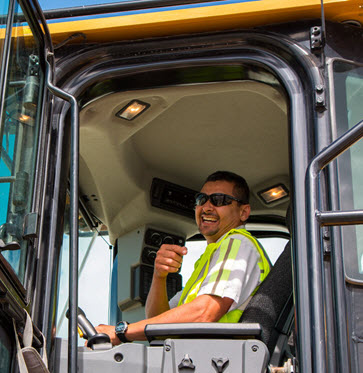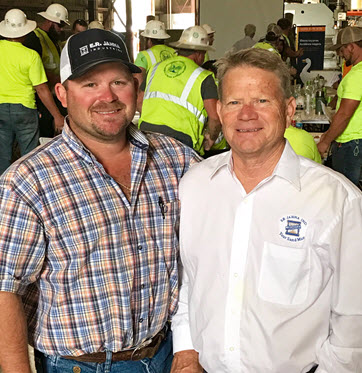 Ditch the air conditioning and get some fresh air.
We're not afraid to get our hands dirty at work and the same goes for in our communities. We know that being a good neighbor requires more than just financial support- but also our time and our passion.
Join the Jahna Family and help build a legacy you'll be proud to leave behind. Fill out an application and submit it to hr@jahna.com, fax (863)676-9431 or mail to our Corporate Office, ATTN: Human Resources.
*All Applications must be completed in their entirety to be processed.
This position will perform the normal office duties at the Independent Mine. This position creates and processes work orders and invoices, tracks inventory, assists with yearly inventory counts and facilitates time sheets for the Independent Mine and ER Jahna Management employees. This position may also perform these duties for other ER Jahna Sand Mines or… Continue Reading >>
This position will safely and efficiently process customer trucks thru the mine's scale, loading and ticketing system to minimize the in-yard times and customer wait times. The employee holding this job must perform the work activities in a professional, correct, accurate and timely fashion. This position will be a floating position between the Mine locations.… Continue Reading >>
The goal of the Mining Division Management Training Program is to recruit and hire a qualified individual with the potential for advancement within the organization and to prepare them for a future operations management position within the mining division of E.R. Jahna Industries, Inc. Individuals hired as management trainees will be placed in an 18… Continue Reading >>
Position will perform all type of mechanical jobs as well as welding & cutting functions throughout the plant, mine site and dredge. Mechanical jobs include repairs on the existing equipment and machinery and/or installation of new pieces of equipment and structures needed for the normal operation of the plant and dredge. This position will assist… Continue Reading >>
This position will be responsible for the safe transport of heavy equipment to different locations and ensure proper loading and unloading of all equipment. Requires the ability to operate multiple types of heavy mobile equipment in a mining environment. Must have an interest in being cross trained to operate and maintain all mine equipment and… Continue Reading >>
The ability to operate multiple types of heavy mobile equipment in a mining environment. (i.e. Articulated Haul Truck, man-lift, 8+ Cu Yd. Front-end loader, Track Mounted Excavator, Bull Dozer, and Fork-lift to load, lift and transport aggregate materials and/or equipment.) This job interfaces, on a daily basis, with the rest of the operations in this… Continue Reading >>
This position assists the Head Electrician in the day to day maintenance and installation of electrical equipment. This position services all of the ER Jahna Industries locations. This position may be required to read blue prints and assist in routine inspections and electronic tests as well as respond to breakdowns and perform troubleshooting.
The Project Manager/Engineer works within the Support Services Group for the ERJ Mining and Contract Dredging Operations. The Project Manager/Engineer is responsible for several employees and for identifying, developing, planning and executing capital and process improvement projects. The Project Manager/Engineer has a direct reporting responsibility to the V.P. of Operations and indirect reporting responsibility to… Continue Reading >>
This position is a Salaried Assistant Mine Manager that will be working at a dredge sand mining & classifying operation with non-union hourly employees. The plant and dredge operate two (2) shifts per day and at times one (1) to two (2) shifts per day on the weekends. This position will be located in Central… Continue Reading >>