Having had the opportunity to work alongside our father for many years, it was instilled in us the importance of high moral values in our personal life as well as our professional careers. We were raised on the values of integrity, honesty, trust, loyalty and hard work and we work diligently to keep these high standards as part of the company's focus. We believe that doing the right thing and treating people fair is what makes our company unique. Our father taught us that your word should be your contract and to work as partners with your employees, suppliers, customers and surrounding community so that we all may thrive.
While we may be rooted in the past, we are also focused on the future and building relationships that will last. We strive to pass along all of the same values we were founded on to the next generation of owners and Jahna employees. As we advance our technology and equipment, and our footprint evolves, our values and beliefs stay the same.
We are grateful for this accomplished company and for the opportunity to continue to grow. We look forward to supplying superior products and service to our customers and providing a place to build careers, all while making positive impacts in the communities we represent.
We are proud to be American owned and independently operated and proud that so many customers put their trust into the products that we supply.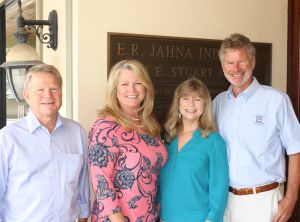 With Much Gratitude,
The Jahna Family