Quality
Quality aggregate supply is no accident. It takes relentless attention to all facets of the production cycle. From identification of quality aggregate reserves to communication with the end user, it takes the efforts of our entire workforce to generate the satisfaction that we have become known for. We take great pride in the materials we produce. Feel free to reach out to our sales department anytime for an up to date sample of our materials.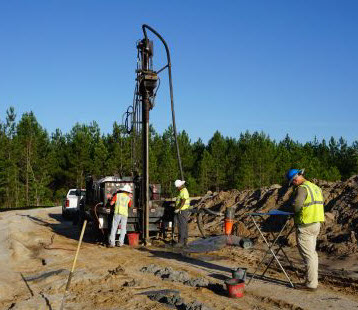 Mine Planning
Quality aggregate material begins with identifying quality mineral deposits. The ER Jahna prospecting team's role is to analyze and quantify reserves at existing mining operations and then put this information in the hands of the operations to best utilize the natural resources we have been entrusted with. Jahna utilizes company owned truck mounted reverse-air drill rigs to collect representative samples of sediments throughout the active mine sites. Each sample is then analyzed in our in house lab for grain size distribution, color, and non-sand material content. This critical data, along with prospect log summaries and geologic interpretations, are vital to understanding and developing a mine plan.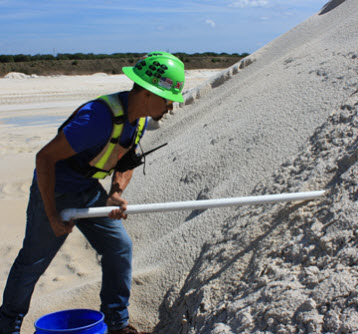 Production and Oversight
Armed with a comprehensive plan and geological information, operations strategically mines and processes the raw material into a washed product sized to the customer's specifications. Utilizing the most up to date equipment and technology in the industry, the varying and ever-changing aggregate deposit is washed and sized into a consistent end product that our customers have come to expect. Quality control technicians are constantly pulling and testing product samples throughout the production cycle and making necessary adjustments to compensate for changes in the natural deposits. The sample data is overseen by management and quality control personnel as well as regulatory agencies. All Jahna quality control labs and technicians are certified and accredited through the Construction Materials Engineering Council (CMEC).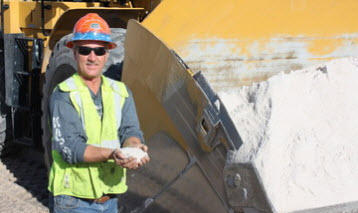 We Listen
Being the eyes and ears of the company, the sales team listens to the customer to understand how our products are performing in its end use. That crucial feedback is then communicated to the operations team to make any necessary adjustments. We believe that this constant communication and quick reaction to the market needs is what differentiates us from others.