Our Employees are our most valuable asset. Our safety rules and regulations emphasize the Company's concern for the health and safety of the Jahna employees, vendors, contractors and visitors on and off the job.
We look out for each other whether it's in the office or out in the field, safety is everyone's top priority. E.R. Jahna is proud of its outstanding employee safety record. With the help of all, we will continue to be a safety leader by eliminating "safety and health" hazards in all our operations and expand the safety culture to our homes.
"Always be your Brothers & Sisters Keeper – Safety is a team effort." Sam Morrone, CEO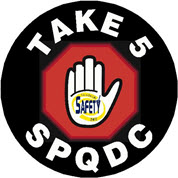 Hands-On
We can anticipate and avoid misunderstandings where safety is concerned by discussing any questions that arise with a supervisor before acting. The actions of employees, contractors, vendors and visitors determine our ability to achieve our safe working environment goals. We always strive to develop and maintain a safety conscious attitude.
Our Safety Program Coordinator and other members of our management team will participate with you on all ongoing safety
and health activities:
Promoting safety as a core value
Providing safety and health education and training
Reviewing and updating workplace safety rules
Weekly safety meetings
Site specific training
Maintaining a Drug Free workplace
Meet our Safety Manager
Our safety manager, Robert Munoz, is a Certified Mine Safety Professional with over twenty years of experience. Robert is passionate about the safety of each and every person that enters our work sites, and knows that safety must go beyond the workplace. His goal is to create a safe work environment so that everyone can return safely home to their families.
"Safety excellence follows a ZERO injury culture which lives in SAFE production. We cannot achieve any of this without actively caring for the safety for our employees, contractors, visitors, and vendors."